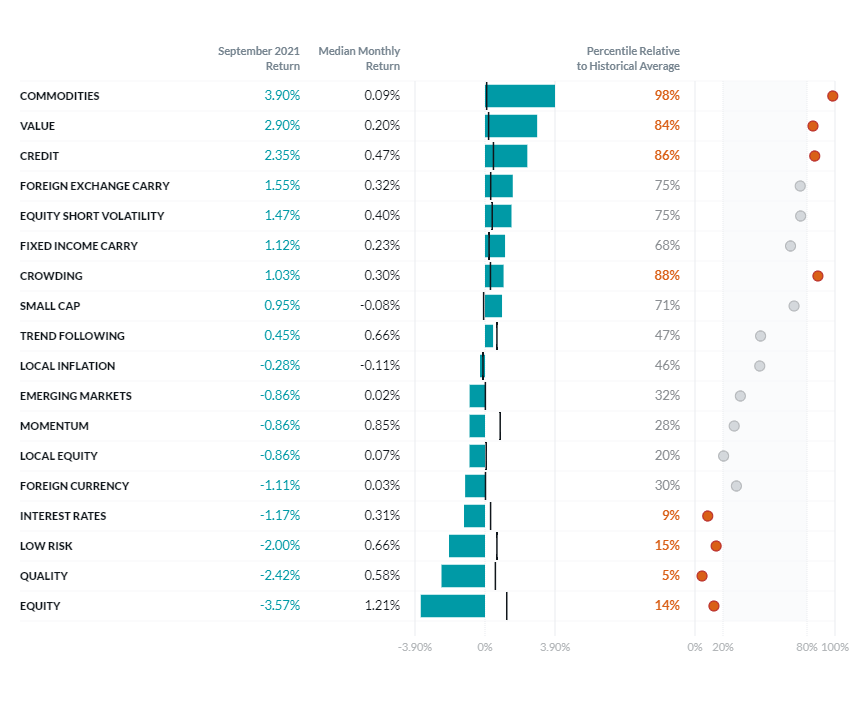 Source: Venn by Two Sigma. The median and percentile columns measure the performance of each factor in the Two Sigma Factor Lens relative to the entire history of the factor in USD, using monthly data for the period March 1995 - August 2021.
Market Themes & Factor Performance Summary
Global Equity markets fell in September, ending a seven month winning streak. Market participants contended with several dynamics over the month, including an indication from the U.S. Federal Reserve that tapering of asset purchases may soon be warranted, fears of slowing growth and rising inflation, a global energy crunch (more on this when we discuss Commodities), and regulatory and Evergrande-related risks emanating from China.


10 year government bond yields generally rose over the month, hurting the Interest Rates factor (which is composed of global sovereign 7-10 year bonds). In the U.S., yields rose ~20 bps from 1.3% to 1.5%.1 And in Europe (as proxied by Germany), yields rose by a similar amount from -0.4% to -0.2%.2


As mentioned earlier, a global energy crisis supported the residualized Commodities factor, which ended the month as the best performing factor in the USD version of the lens. A supply crunch sent energy prices higher, with natural gas surging approximately 30%, and crude oil up nearly 10%.3


The residualized Credit factor gained in September. The underlying factor input (made up of U.S. and European investment grade and high yield bonds) was negative, but performed better than expected given the large downward moves in Equity and Interest Rates.


In terms of the equity style factors:

Some market participants attribute the outperformance of Value stocks in September to higher yields.4 All four components of Value were up in September, with Long-Term Reversal and Book-to-Price leading the way. The factor is now up 11.8% YTD through September.
The Crowding factor experienced fairly sizable gains, indicating that stocks that were heavily shorted by the investment community underperformed their less heavily shorted counterparts.
Finally, the defensive equity styles (Quality

and

Low Risk

) struggled last month, each losing 2% or greater. Within

Quality

, the Profitability, Leverage, and Earnings Variability components were responsible for losses, while Beta was the detracting component for

Low Risk

.
References to the Two Sigma Factor Lens and other Venn methodologies are qualified in their entirety by the applicable documentation on Venn.
REFERENCEs
1Source: Bloomberg.
2Source: Bloomberg.
3Source: Bloomberg.
4Example source: Credit Suisse.
This article is not an endorsement by Two Sigma Investor Solutions, LP or any of its affiliates (collectively, "Two Sigma") of the topics discussed. The views expressed above reflect those of the authors and are not necessarily the views of Two Sigma. This article (i) is only for informational and educational purposes, (ii) is not intended to provide, and should not be relied upon, for investment, accounting, legal or tax advice, and (iii) is not a recommendation as to any portfolio, allocation, strategy or investment. This article is not an offer to sell or the solicitation of an offer to buy any securities or other instruments. This article is current as of the date of issuance (or any earlier date as referenced herein) and is subject to change without notice. The analytics or other services available on Venn change frequently and the content of this article should be expected to become outdated and less accurate over time. Any statements regarding planned or future development efforts for our existing or new products or services are not intended to be a promise or guarantee of future availability of products, services, or features. Such statements merely reflect our current plans. They are not intended to indicate when or how particular features will be offered or at what price. These planned or future development efforts may change without notice. Two Sigma has no obligation to update the article nor does Two Sigma make any express or implied warranties or representations as to its completeness or accuracy. This material uses some trademarks owned by entities other than Two Sigma purely for identification and comment as fair nominative use. That use does not imply any association with or endorsement of the other company by Two Sigma, or vice versa. See the end of the document for other important disclaimers and disclosures. Click here for other important disclaimers and disclosures.
This article may include discussion of investing in virtual currencies. You should be aware that virtual currencies can have unique characteristics from other securities, securities transactions and financial transactions. Virtual currencies prices may be volatile, they may be difficult to price and their liquidity may be dispersed. Virtual currencies may be subject to certain cybersecurity and technology risks. Various intermediaries in the virtual currency markets may be unregulated, and the general regulatory landscape for virtual currencies is uncertain. The identity of virtual currency market participants may be opaque, which may increase the risk of market manipulation and fraud. Fees involved in trading virtual currencies may vary.