2019 was a very busy and productive year for the Venn team. We gathered learnings from our daily interactions with our users, and we also continued to leverage Two Sigma's expertise in technology and research to help make Venn more powerful and useful. We know we still have a long path ahead of us with a very exciting roadmap in 2020, but we wanted to take a quick pause to reflect on our progress in 2019. These are the most important enhancements to the platform throughout the year:
Private Investments Analysis


Venn supports private assets and other quarterly-reporting investments. After uploading your organization's quarterly private asset return series, you can click "Interpolate" at the top of any analysis page. You can then choose the relevant category to create an estimated daily return stream using the selected category's pre-set public market equivalent index. 1 The result will be a daily return series with returns that closely match those of your original private asset return series and with volatility that roughly matches that of the public market equivalent index. Try it out with a pre-loaded Venture Capital index, and let us know what you think!


Check out the FAQ for additional information.
Macro Style Factors


The Two Sigma Factor Lens now includes four macro style factors. We believe the updated factor lens can better explain strategies, such as Global Macro and Managed Futures, that have exposure to these macro style factors:

Equity Short Volatility (recategorized from Secondary Macro to Macro Styles)
Fixed Income Carry
Foreign Exchange Carry
Trend Following

Additionally, for all factors, we have extended the return history into the 1990s, which will allow for extended factor analysis and more available periods in Drawdown Analysis (e.g., Tech Bubble and Burst in the late 1990s/early 2000s, the Russian Financial Crisis in 1998, and the Asian Financial Crisis in 1997).

Check out the new factors on Venn's Factor Insights page.

Historical Risk Statistics


With the Risk Statistics analysis block, you can quickly view Beta to Benchmark, VaR, Upside/Downside capture and other metrics for your organization's investments or portfolios. When viewing analysis, simply select "Historical Risk Statistics" from the top dropdown, or view within the compare feature.

You can also add this table to a new or existing Template by clicking the "+" button.

Portfolio Correlations


When viewing your organization's portfolio on Venn Pro, check out the Correlations analysis block to see the pairwise correlations between the investments. Simply select "Correlations" from the top dropdown. Be sure to also Toggle on "Use Residual" to view just the residual return correlations.

Scenario Analysis


Enhance your team's risk management function by using Venn's "Scenario Analysis" feature to understand how certain market shocks are estimated to impact your organization's portfolios and investments. Test your portfolio's resilience to the critical market situations that you care about by setting up custom what-if scenarios.

Factor Alerts


Monitoring market volatility is now easier with Venn factor alerts. Venn notifies you when there are "moderate" or "large" swings in factor performance to make you aware of potentially meaningful movements and their impact on your organization's portfolios and investments.

---

---

Factor Deep Dive
We've expanded Venn's Two Sigma Factor Lens education section with an all new Factor Deep Dive

page. In Factor Deep Dive, we offer a closer look at how our factors are constructed and highlight notable performance periods so you can build a clearer understanding of the factors in the Two Sigma Factor Lens.



Custom Templates


Venn now allows you to pick and choose the default set of analyses that matter most to your organization by creating custom analysis templates. Use these organization-specific templates to analyze your portfolios and investments, and easily share the results with your team using links and Venn's export capabilities.

Capital Market Assumptions to Custom Factor Forecasts
We understand how challenging it is to translate your organization's capital market assumptions to expectations for factor returns. That's why we created a custom factor forecasts feature that calculates your forecasts for certain factors from your go-forward return expectations for common market indices. Your personalized capital market assumptions ensure your forecasted performance and optimization results throughout the platform better reflect your organization's unique views.
Category Comparisons



When evaluating a manager, category comparisons can be a way to understand relative performance versus other managers employing a similar strategy or style. Venn helps you conduct this analysis by providing the aggregate returns of the manager's applicable category as a comparison point.

Optimization in the Portfolio Allocator Panel

With Venn Pro, you can compare your organization's existing portfolio to its optimized version within the allocator panel. You can customize the optimization to maximize returns, target returns, or put constraints on either the allocations or factor exposures of the portfolio.

Revamped Homepage


Now, from Venn's homepage, you can click "Analyze" or type "s" to quickly search for any investment or portfolio in your library.2 You can click "Compare" to add multiple investments or portfolios and compare their performance and risk metrics side-by-side. Also, the new Quick Links on the left menu allow you to invite teammates, create new portfolios, and upload investments with the click of a button.

Historical Performance Attribution


Venn Pro now provides investment-level attribution when analyzing portfolios. In this new version, users can hover over the statistics in the Performance Summary analysis block to view the breakdown of portfolio return, volatility, Sharpe Ratio, and maximum drawdown by investment.

Improved Import and Export Capabilities


With Venn Pro, users can now add or update investments easily via email by sending a file with returns to a personalized inbox​. Venn will then import the returns to the user's investment library.

It's now easier than ever to share Venn's output with your colleagues. You can export certain data to Excel, download charts and tables as images, copy images straight to your clipboard, and create unique links to analyses. Start collaborating with your team today.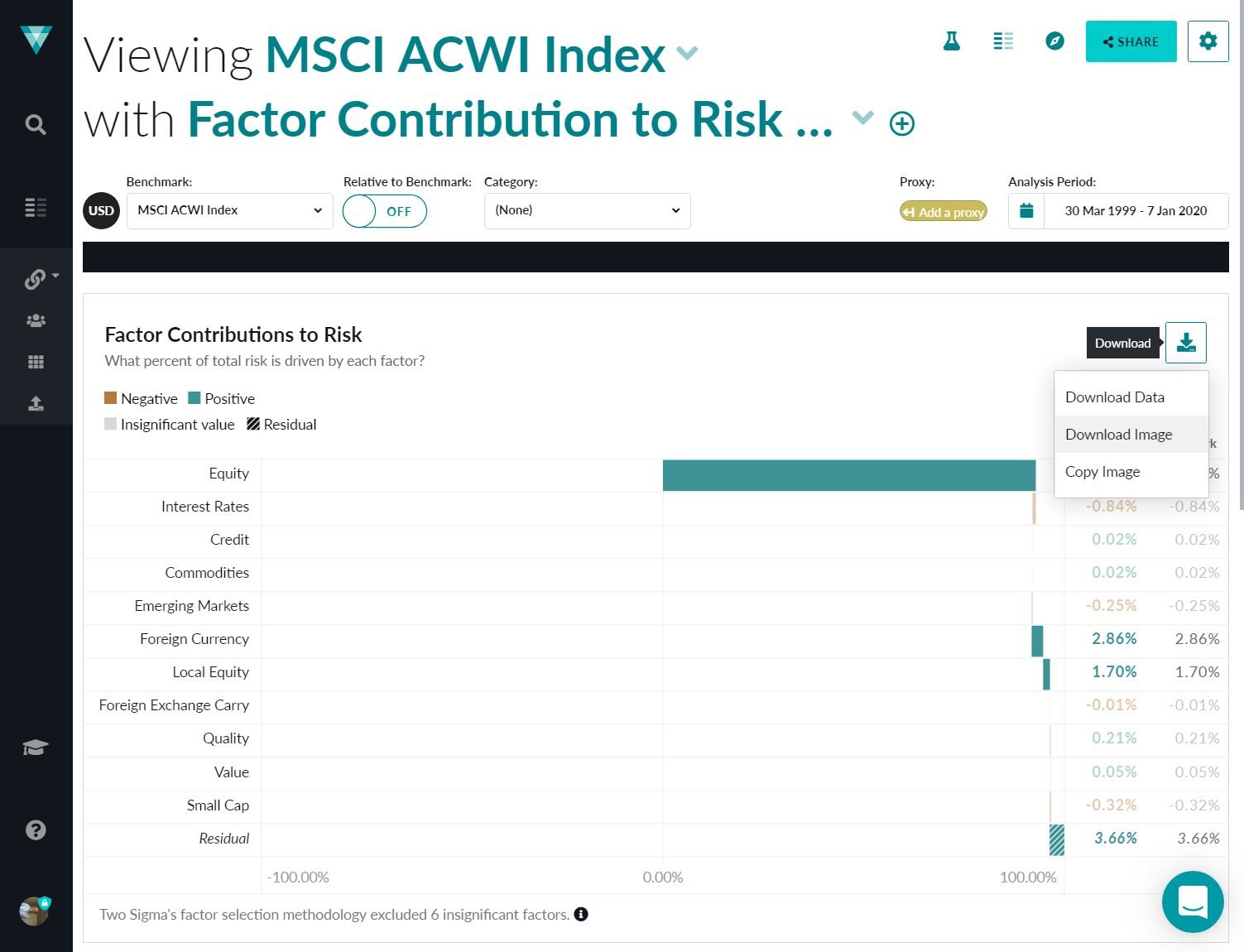 These are only some of the most popular additions to Venn in 2019. We hope you are getting a lot of value from the platform. Please feel free to share any feedback you may have with us, we are always happy to hear from you!
We also have a very exciting roadmap ahead in 2020 and will be sharing details soon!
REFERENCES
1 Categories for the private asset categories were guided by research from Andrew Ang, Bingxu Chen, William N. Goetzmann, and Ludovic Phalippou (2014) in addition to research by Two Sigma.
2 Pro tip: You can type "s" to initiate the quick search no matter where you are on Venn.
This article is not an endorsement by Two Sigma Investor Solutions, LP or any of its affiliates (collectively, "Two Sigma") of the topics discussed. The views expressed above reflect those of the authors and are not necessarily the views of Two Sigma. This article (i) is only for informational and educational purposes, (ii) is not intended to provide, and should not be relied upon, for investment, accounting, legal or tax advice, and (iii) is not a recommendation as to any portfolio, allocation, strategy or investment. This article is not an offer to sell or the solicitation of an offer to buy any securities or other instruments. This article is current as of the date of issuance (or any earlier date as referenced herein) and is subject to change without notice. The analytics or other services available on Venn change frequently and the content of this article should be expected to become outdated and less accurate over time. Any statements regarding planned or future development efforts for our existing or new products or services are not intended to be a promise or guarantee of future availability of products, services, or features. Such statements merely reflect our current plans. They are not intended to indicate when or how particular features will be offered or at what price. These planned or future development efforts may change without notice. Two Sigma has no obligation to update the article nor does Two Sigma make any express or implied warranties or representations as to its completeness or accuracy. This material uses some trademarks owned by entities other than Two Sigma purely for identification and comment as fair nominative use. That use does not imply any association with or endorsement of the other company by Two Sigma, or vice versa. See the end of the document for other important disclaimers and disclosures. Click here for other important disclaimers and disclosures.
This article may include discussion of investing in virtual currencies. You should be aware that virtual currencies can have unique characteristics from other securities, securities transactions and financial transactions. Virtual currencies prices may be volatile, they may be difficult to price and their liquidity may be dispersed. Virtual currencies may be subject to certain cybersecurity and technology risks. Various intermediaries in the virtual currency markets may be unregulated, and the general regulatory landscape for virtual currencies is uncertain. The identity of virtual currency market participants may be opaque, which may increase the risk of market manipulation and fraud. Fees involved in trading virtual currencies may vary.