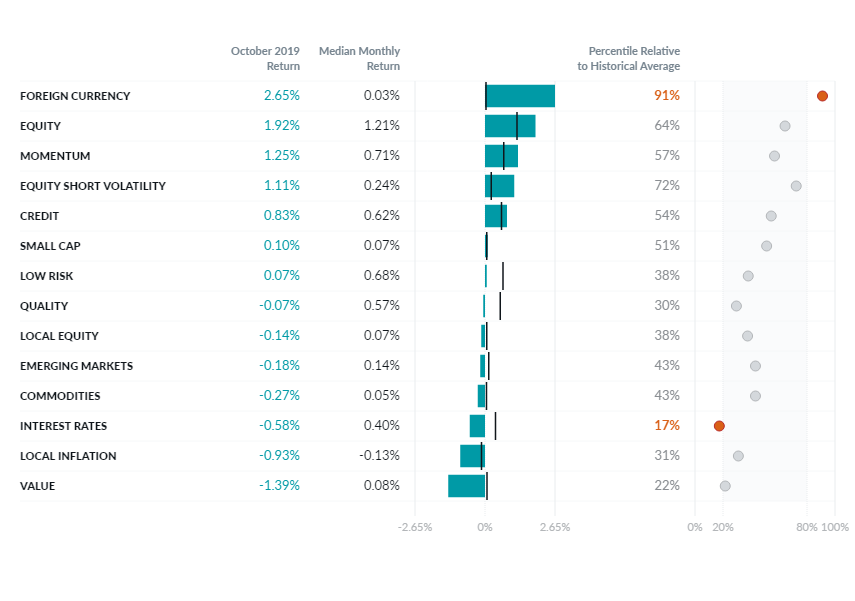 Notable Performance of Factors in the Two Sigma Factor Lens
The

Foreign Currency

factor delivered positive performance last month, as the U.S. dollar underperformed several currencies in the G10 due to progress on Brexit and the U.S.-China trade war.

Notably, the British pound ended higher versus the U.S. dollar due in part to rising optimism that there would be a Brexit deal leading up to the October 31st deadline. Boris Johnson did eventually work out an exit deal with the European Union, but it was not approved by U.K. Parliament.1

The Brexit deadline was ultimately extended to January 2020.2

The Equity

factor started the first two days of the month down 2.5% due in part to disappointing U.S. factory data that highlighted the economic impact of the trade war.3

However, global equity markets rebounded to end October positive, as U.S. and China appeared to move closer to a partial trade deal.4
The Interest Rates

factor, which is constructed using global government 7-10 year bonds, ended October in the red. Yields were higher for several European sovereign bonds, notably in the U.K.5
In September, we covered the unusual performance of

Momentum

and

Value.6

In October, the two equity style factors continued their longer-term, multi-year trend of Momentum outperforming Value.
REFERENCES
1 Source: CNBC article "UK and EU agree on new Brexit deal in last-ditch talks" on October 17, 2019.
2 Source: BBC article "Brexit: Johnson agrees to Brexit extension - but urges election" on October 28, 2019.
3 Source: The New York Times article "Stocks Slide as Evidence Mounts of a Slowdown Fueled by Trade War" on October 2, 2019.
4 Source: CNBC article "US and China are close to finalizing some sections of trade deal, US trade representative says" on October 25, 2019.
5 Source: Trading Economics.
6 Read the September 2019 Venn Factor Performance Report.
Median and percentile measures the performance of each factor in the Two Sigma Factor Lens relative to the entire history of the factor in USD, using monthly data for the period January 2003 - October 2019.
This article is not an endorsement by Two Sigma Investor Solutions, LP or any of its affiliates (collectively, "Two Sigma") of the topics discussed. The views expressed above reflect those of the authors and are not necessarily the views of Two Sigma. This article (i) is only for informational and educational purposes, (ii) is not intended to provide, and should not be relied upon, for investment, accounting, legal or tax advice, and (iii) is not a recommendation as to any portfolio, allocation, strategy or investment. This article is not an offer to sell or the solicitation of an offer to buy any securities or other instruments. This article is current as of the date of issuance (or any earlier date as referenced herein) and is subject to change without notice. The analytics or other services available on Venn change frequently and the content of this article should be expected to become outdated and less accurate over time. Two Sigma has no obligation to update the article nor does Two Sigma make any express or implied warranties or representations as to its completeness or accuracy. This material uses some trademarks owned by entities other than Two Sigma purely for identification and comment as fair nominative use. That use does not imply any association with or endorsement of the other company by Two Sigma, or vice versa. See the end of the document for other important disclaimers and disclosures. Click here for other important disclaimers and disclosures.