The Venn team has stayed busy over the summer making notable improvements to the platform. Since releasing the new version of Venn in May, we've added new features and allowed for more customization so you can efficiently conduct robust analysis.
Here is a summary of the features we released over the past 3 months.
Scenario Analysis
Enhance your team's risk management function by using Venn's new Scenario Analysis feature to understand how certain market shocks are estimated to impact the value of your portfolio and investments. Test your portfolio's resilience to the critical market situations that you care about by setting up custom "what-if" scenarios. Learn more.

Factor Alerts
Monitoring market volatility is now easier with Venn factor alerts. Venn notifies you when there are "moderate" or "large" swings in factor performance so that you're aware of potentially meaningful movements impacting your portfolio and investments. Learn more.
Factor Deep Dive
We're expanding Venn's Two Sigma Factor Lens education section with an all new Factor Deep Dive. In Factor Deep Dive, we offer a closer look at how our factors are constructed and highlight notable performance periods, so you can build a clearer understanding of the proprietary factors in the Two Sigma Factor Lens.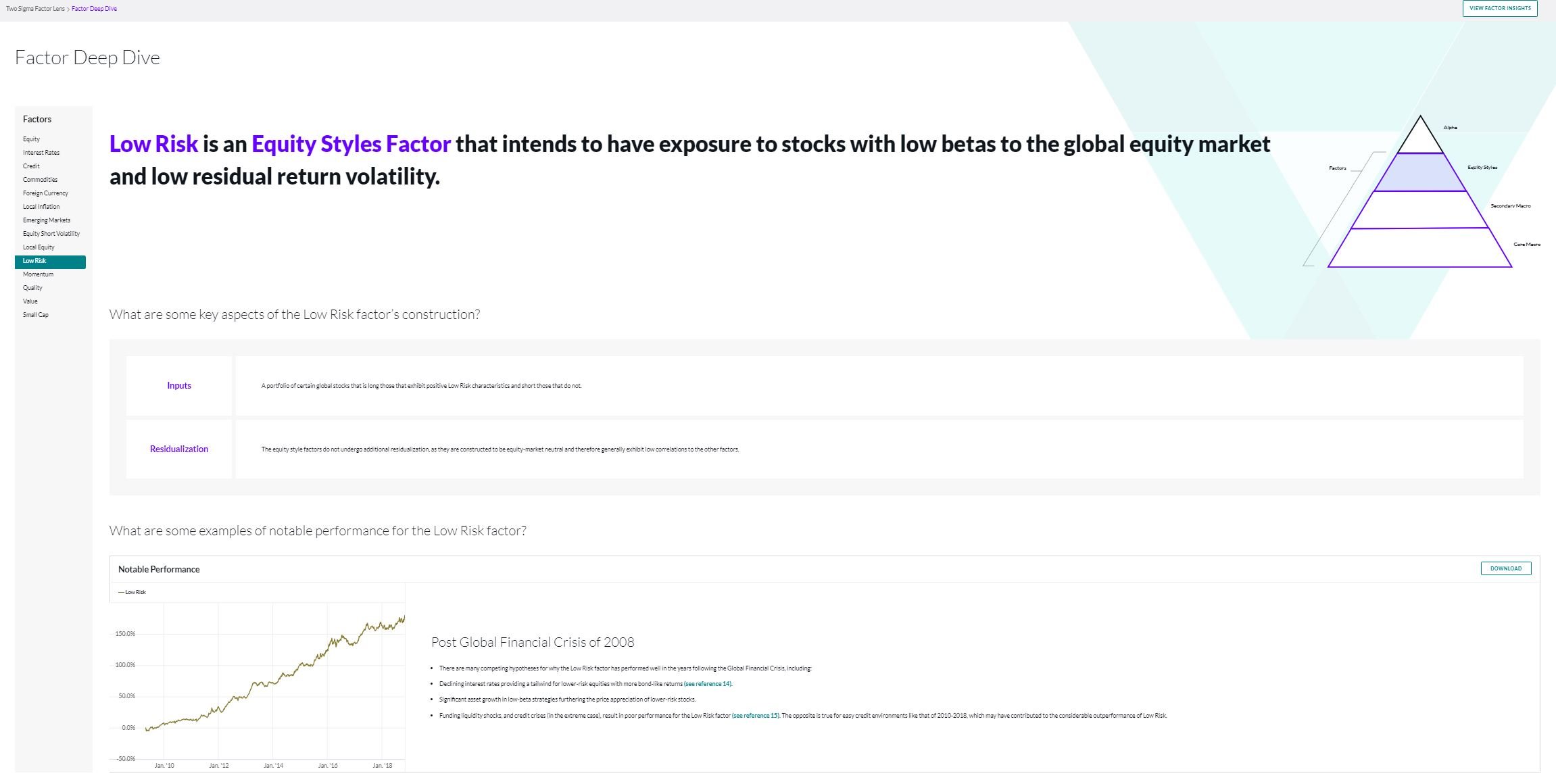 Custom Templates
Venn now allows you to pick and choose the default set of analyses that matter most to your organization by creating custom analysis templates. Use these organization-specific templates to analyze your portfolios and investments and easily share the results with your team using share links and Venn's export capabilities.

Capital Market Assumptions to Custom Factor Forecasts
We understand how challenging it is to translate your capital market assumptions to expectations for factor returns. That's why we created a custom factor forecasts feature that calculates your forecasts for certain factors from your go-forward return expectations for common market indices. Your personalized capital market assumptions ensure your forecasted performance and optimization results throughout the platform better reflect your organization's unique views. Learn more.
Category Comparisons
When evaluating a manager, category comparisons can be a way to understand relative performance versus other managers employing a similar strategy or style. Venn helps you conduct this analysis by providing the aggregate returns of the manager's applicable category as a comparison point. Learn more.
Open Access
You no longer need an invitation to access Venn. Institutional investors1 can sign up today to start leveraging Venn's quantitatively-driven, research-backed analysis into their manager evaluation and portfolio construction processes. Sign up today!
Other Improvements
Risk-Free Rate in Factor Analysis - break down your investment or portfolio returns into their risky and risk-free components (learn more)
Percentage Mode Editing - setup and edit portfolios by making investment-level allocations in percentage space (versus dollar space)
Analysis Period Selection Improvements - more easily select periods so that you analyze your investments or portfolios over the periods you care about
Optimization in the Portfolio Allocator Panel - compare your existing portfolio to its optimized version using any of Venn's analyses
Investment Metadata Support - store important investment information in Venn by clicking "Manage Data" on any investment analysis page
REFERENCES
1 Venn does not operate in all jurisdictions, and certain categories of institutional investors will not be granted access. Feel free to contact us with any questions about your eligibility for Venn.
This article is not an endorsement by Two Sigma Investor Solutions, LP or any of its affiliates (collectively, "Two Sigma") of the topics discussed. The views expressed above reflect those of the authors and are not necessarily the views of Two Sigma. This article (i) is only for informational and educational purposes, (ii) is not intended to provide, and should not be relied upon, for investment, accounting, legal or tax advice, and (iii) is not a recommendation as to any portfolio, allocation, strategy or investment. This article is not an offer to sell or the solicitation of an offer to buy any securities or other instruments. This article is current as of the date of issuance (or any earlier date as referenced herein) and is subject to change without notice. The analytics or other services available on Venn change frequently and the content of this article should be expected to become outdated and less accurate over time. Any statements regarding planned or future development efforts for our existing or new products or services are not intended to be a promise or guarantee of future availability of products, services, or features. Such statements merely reflect our current plans. They are not intended to indicate when or how particular features will be offered or at what price. These planned or future development efforts may change without notice. Two Sigma has no obligation to update the article nor does Two Sigma make any express or implied warranties or representations as to its completeness or accuracy. This material uses some trademarks owned by entities other than Two Sigma purely for identification and comment as fair nominative use. That use does not imply any association with or endorsement of the other company by Two Sigma, or vice versa. See the end of the document for other important disclaimers and disclosures. Click here for other important disclaimers and disclosures.
This article may include discussion of investing in virtual currencies. You should be aware that virtual currencies can have unique characteristics from other securities, securities transactions and financial transactions. Virtual currencies prices may be volatile, they may be difficult to price and their liquidity may be dispersed. Virtual currencies may be subject to certain cybersecurity and technology risks. Various intermediaries in the virtual currency markets may be unregulated, and the general regulatory landscape for virtual currencies is uncertain. The identity of virtual currency market participants may be opaque, which may increase the risk of market manipulation and fraud. Fees involved in trading virtual currencies may vary.