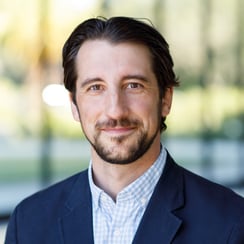 NEW YORK, June 16, 2022 – Two Sigma today announced that it has appointed Marco Della Torre as CEO of Venn, its portfolio analytics platform. In this newly created role, Della Torre will lead the product and business development of Venn, drawing from his nearly two decades of experience leading high-growth technology companies.
"As Venn continues to expand its offering to meet the evolving needs of multi-asset investors in their investment decision making, we believe now is the time to bolster our leadership team with a chief executive at the helm," said Carter Lyons, Chief Business Officer at Two Sigma. "Marco has a proven track record of successfully scaling operations and driving innovation at technology companies at all stages, and we are excited to partner with him as we look to Venn's next phase of growth."
Della Torre most recently served as Chief Product & Innovation Officer of Forge Global, a private securities marketplace and data platform, where he oversaw the company's product strategy and roadmap. Prior to Forge, Della Torre was Chief Technology Officer of Derive Systems, an automotive technology company, where he led all technology and architected the product strategy for the company's expansion into the enterprise segment. Before that, he served as the lead technologist in the office of the Chief Marketing Officer at Intel. Earlier in his career, Della Torre co-founded Basis, a health and fitness platform acquired by Intel in 2014.
"Two Sigma has built a leading portfolio analytics platform that leverages aspects of the powerful quantitative approach central to the firm's financial sciences DNA," Della Torre added. "I am excited to join the team and accelerate Venn's leadership in empowering investors to understand and navigate their portfolio risks and positioning in a modern, data-driven, and intuitive way."
Della Torre holds a Bachelor of Engineering in Computer Engineering and a Master of Biomedical Engineering from the University of New South Wales in Sydney, Australia.
To learn more about Venn by Two Sigma, please visit venn.twosigma.com
About Venn by Two Sigma
Venn is Two Sigma's portfolio analytics platform used by asset owners, asset managers, and advisors. Venn applies Two Sigma's expertise in research, data science, and technology to modernize the analytics experience for institutional investors, helping them embrace a quantitative approach to multi-asset portfolio risk and investment decision making. The tools available in Venn help investors perform factor-based risk analysis to inform manager due diligence, investment evaluation, and portfolio construction.
Two Sigma Investor Solutions, LP ("TSIS") operates Venn. Venn is separate and the services it offers are different from those of its affiliates. Nothing in this press release or on Venn is or should be construed as an offer to sell or a solicitation of an offer to buy any security or other instrument. Past performance is not necessarily indicative of future results.
About Two Sigma
Two Sigma is a financial sciences company, combining rigorous inquiry, data analysis, and invention to solve the toughest challenges in investment management, insurance, securities, private equity, and venture capital. Founded in 2001 by David Siegel and John Overdeck, Two Sigma employs over 1600 creative minds, and has offices in New York, Houston, Portland, London, Tokyo, Hong Kong and Shanghai. For more Information visit twosigma.com
Media Contact
Alyssa Noud
This article is not an endorsement by Two Sigma Investor Solutions, LP or any of its affiliates (collectively, "Two Sigma") of the topics discussed. The views expressed above reflect those of the authors and are not necessarily the views of Two Sigma. This article (i) is only for informational and educational purposes, (ii) is not intended to provide, and should not be relied upon, for investment, accounting, legal or tax advice, and (iii) is not a recommendation as to any portfolio, allocation, strategy or investment. This article is not an offer to sell or the solicitation of an offer to buy any securities or other instruments. This article is current as of the date of issuance (or any earlier date as referenced herein) and is subject to change without notice. The analytics or other services available on Venn change frequently and the content of this article should be expected to become outdated and less accurate over time. Any statements regarding planned or future development efforts for our existing or new products or services are not intended to be a promise or guarantee of future availability of products, services, or features. Such statements merely reflect our current plans. They are not intended to indicate when or how particular features will be offered or at what price. These planned or future development efforts may change without notice. Two Sigma has no obligation to update the article nor does Two Sigma make any express or implied warranties or representations as to its completeness or accuracy. This material uses some trademarks owned by entities other than Two Sigma purely for identification and comment as fair nominative use. That use does not imply any association with or endorsement of the other company by Two Sigma, or vice versa. See the end of the document for other important disclaimers and disclosures. Click here for other important disclaimers and disclosures.
This article may include discussion of investing in virtual currencies. You should be aware that virtual currencies can have unique characteristics from other securities, securities transactions and financial transactions. Virtual currencies prices may be volatile, they may be difficult to price and their liquidity may be dispersed. Virtual currencies may be subject to certain cybersecurity and technology risks. Various intermediaries in the virtual currency markets may be unregulated, and the general regulatory landscape for virtual currencies is uncertain. The identity of virtual currency market participants may be opaque, which may increase the risk of market manipulation and fraud. Fees involved in trading virtual currencies may vary.