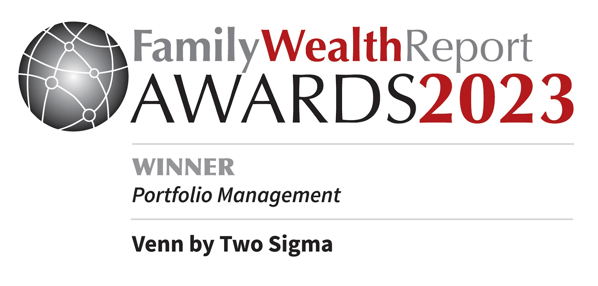 Venn by Two Sigma Wins

2023 Family Wealth Report Award for Portfolio Management
Venn is pleased to announce it has been named the winner in the Best 'Portfolio Management' category at the Tenth Annual Family Wealth Report Awards 2023 program. The awards recognize the most innovative and exceptional firms, teams, and individuals serving the family office, family wealth, and trusted advisor communities in North America.
Venn was selected for the top prize in the 'Portfolio Management' category from a list of outstanding technology vendors serving the family office and family wealth industry. Each category winner and highly commended firm was subjected to a rigorous and independent evaluation process, with judges from family offices, private banks, trusted advisers, consultants, and other service providers, each of whom has in-depth knowledge and a broad experience.
"We are honored to receive this prestigious award, which validates our capacity to provide family offices with an institutional-grade solution that enhances investment due diligence and portfolio management," said Marco Della Torre, CEO of Venn. "We extend our gratitude to the Family Wealth Report and its judges for recognizing our dedication towards modernizing the analytics experience for the family wealth and family office communities."
Winners and highly commended companies were announced on May 4, 2023 at the Gala Ceremony at the Mandarin Oriental Hotel in Manhattan, New York.
---
Awards are presented by Family Wealth Report by ClearView Financial Media, which is not a Venn Subscriber. Awards are self-nominated and open to any member of Family Wealth Report. There is no cost to be considered for an award. Selection as a finalist for and/or recipient of an award is based on independent judges' evaluation of a candidate submission. Winners are offered the opportunity, but are not required, to purchase a winner's package but no additional payment is required to promote consideration or selection for an award.
This article is not an endorsement by Two Sigma Investor Solutions, LP or any of its affiliates (collectively, "Two Sigma") of the topics discussed. The views expressed above reflect those of the authors and are not necessarily the views of Two Sigma. This article (i) is only for informational and educational purposes, (ii) is not intended to provide, and should not be relied upon, for investment, accounting, legal or tax advice, and (iii) is not a recommendation as to any portfolio, allocation, strategy or investment. This article is not an offer to sell or the solicitation of an offer to buy any securities or other instruments. This article is current as of the date of issuance (or any earlier date as referenced herein) and is subject to change without notice. The analytics or other services available on Venn change frequently and the content of this article should be expected to become outdated and less accurate over time. Any statements regarding planned or future development efforts for our existing or new products or services are not intended to be a promise or guarantee of future availability of products, services, or features. Such statements merely reflect our current plans. They are not intended to indicate when or how particular features will be offered or at what price. These planned or future development efforts may change without notice. Two Sigma has no obligation to update the article nor does Two Sigma make any express or implied warranties or representations as to its completeness or accuracy. This material uses some trademarks owned by entities other than Two Sigma purely for identification and comment as fair nominative use. That use does not imply any association with or endorsement of the other company by Two Sigma, or vice versa. See the end of the document for other important disclaimers and disclosures. Click here for other important disclaimers and disclosures.
This article may include discussion of investing in virtual currencies. You should be aware that virtual currencies can have unique characteristics from other securities, securities transactions and financial transactions. Virtual currencies prices may be volatile, they may be difficult to price and their liquidity may be dispersed. Virtual currencies may be subject to certain cybersecurity and technology risks. Various intermediaries in the virtual currency markets may be unregulated, and the general regulatory landscape for virtual currencies is uncertain. The identity of virtual currency market participants may be opaque, which may increase the risk of market manipulation and fraud. Fees involved in trading virtual currencies may vary.